Fiction can only be as good as reality when the writer has an exceptional sense of pulling out words from fond memories, painfully raw truth and yearning for love. Khaled Hosseini books are all set in backdrops of major historical events that occurred in his native country, Afghanistan. Now an American citizen, Hosseini has always emphasized on how much it hurt him to leave his country. He has written three books and all have been New York Times Bestsellers continuously for many weeks at a stretch.
Hosseini's first book was not just a very big hit; it was a phenomenon that brought together all different people under one single feeling. The Kite Runner is based on Hosseini's vivid memories of his childhood spent in Afghanistan and he went on to build a story on that.
When Afghanistan loses its last ruling Monarch due to Soviet military action, the country becomes a vulnerable place resulting is rise of terrorist organization Taliban. Humanity is slaughtered every day in broad daylight and those incapable of bearing the torment flee from the country. One such family is that of Amir. Amir narrates the story of Hassan, a Hazara boy and his best friend. Hassan is the family servant's boy who loves Amir. Both spend quality time flying kites and Hassan is the best kite runner. Hassan becomes victim of bullying by an older boy and is sexually abused. Amir just remains a mute spectator and the guilt slowly overpowers him to the extent that he doesn't want to see Hassan any more. They part ways and Amir and his father move to U.S.A where he becomes a writer and gets married. But they remain childless. A turn of events take Amir to Afghanistan, where his father's best friend, Rahim Khan directs him to rescue Sohrab, Hassan's son from an orphanage where he stayed after his parent's death. The wish to amend his mistake gives him the will to brush off all dangers just to rescue Sohrab. After a tumultuous ordeal, he manages to take the child to his wife in California, where they try to bring back things to normalcy for Sohrab.
It is a heart wrenching tale of humanity at both the extreme ends.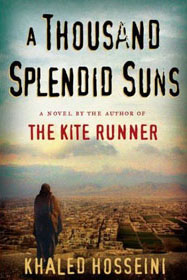 The second book of Khaled Hosseini revolves around two female protagonists with a very different point of view from his first work. This book tells the story of a very unlikely friendship between two women, Mariam and Laila. Despite of two decades difference and caught in a rivaling situation, both develop deep trust and understanding.
Mariam is an illegitimate daughter of a wealthy merchant. She is subjected to lot of social prejudices because of her identity. In a fit of anger, 15 year old Mariam decides to visit her father at his home, who refuses to know her. Dejected, she comes back home to find her mother had committed suicide. Then her father marries her off to a 45 year old cobbler Rasheed. The marriage becomes abusive when Mariam is unable to give birth.
On the other hand, Laila is a happy girl in a well-knit, educated family who is in love with her best friend Tariq. Missile attacks separate the duo and 14 year old Laila is homeless and pregnant with Tariq's child. She is taken in by Mariam and Rasheed. To fend for herself and her unborn child she accepts the marriage proposal from Rasheed. The birth of a girl child makes the marriage sour. Mariam and Laila stand by each other through hard times. Mariam kills Rasheed when he tries to strangle Laila. She is publicly executed and Tariq and Laila get back together again.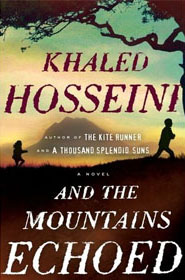 In yet another emotional novel, Hosseini portrays the beautiful relation of a brother and sister, separated by fate.
Abdullah loves his 3 year old sister Pari, whose mother had expired during childbirth. He takes care of her like a mother. His step mother Parwana has a story of her own. She helps her paraplegic sister to commit suicide on her request so that Parwana could carry on with her life. Saboor is a poor farmer and is unable to take care of his children, which forces him to sell of his daughter Pari to a wealthy, childless couple, The Wahdatis. The incident leaves Abdullah bewildered.
Parwana's brother, Nabi is the caretaker of Mr. Wahdati and the deal maker for the sale. Nila Wahdati is sent to Paris with Pari, and a very sick Wahdati stays back with Nabi. Nabi discovers that Wahdati loves him secretly. Initially irked, Nabi decides to be by his side till his death. He helps Wahdati commit suicide.
Told in the form of narratives by different characters, the story culminates in the long awaited reunion of Abdullah and Pari in America. But the irony is at the time of their reunion he fails to remember anything because of Alzheimer's disease.
Last Updated: 8 August 2018