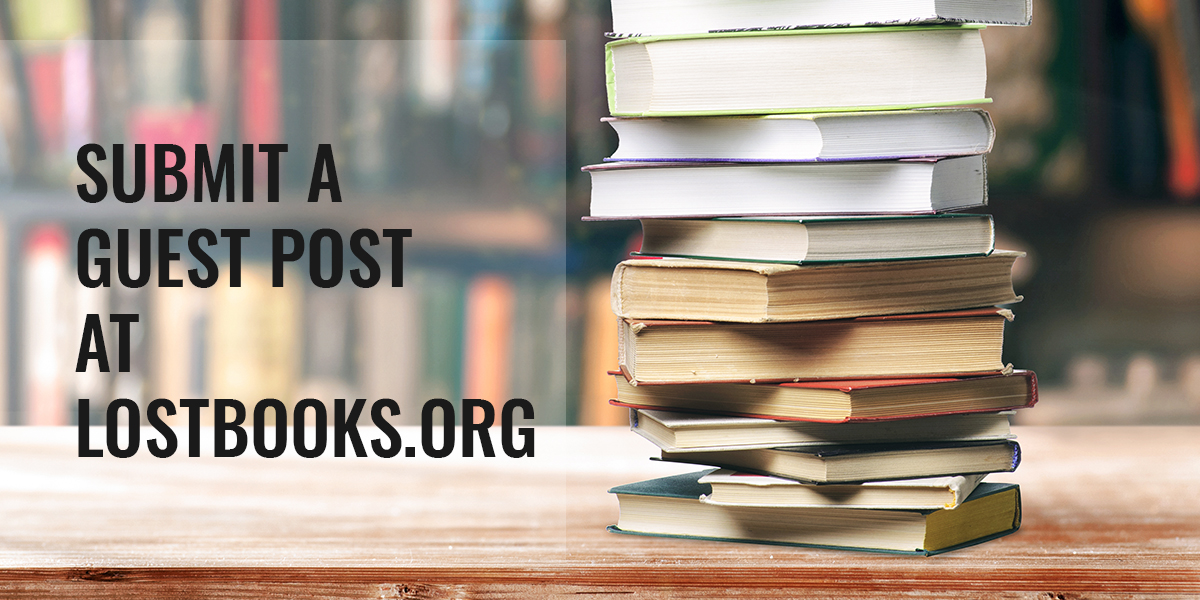 Hey there!
Thanks for reaching out and showing interest in writing for LostBooks.org!
If you're a book lover and a good writer too, then you've come to the right place.  We'll be more than happy to feature your guest post contributions about books and authors and everything in between. We're all ears for your take on forgotten authors and interesting genres. Please go ahead and pitch in your submissions on any genre – classics, fantasy, science fiction, romance, suspense, children books.
Why Write A Guest Post For Us?
We are primarily a book review blog. Our readership and following is gradually evolving into a community of book lovers. Contributing a guest post on our blog will help you gain quality traffic for your own website / blog. If you're a book author, you can gain followers and recognition.
Guidelines For Guest Post Submissions
Please follow these guidelines for submissions.
We require guest posts to be a minimum of 1000 words. That should give your content a range of 10-odd short paragraphs.
The content should be engaging, high-quality and original. We expect you to come up with authentic new ideas and not copied content.
The topic of your post should also be unique. There's no point repeating the topics we already have on the blog.
Your writing style should reflect the tone of LostBooks.org, and match our quality standard. The grammar and spelling should be impeccable.
You are allowed to submit an author bio, introducing yourself to our readers. But please limit your introduction to 2 or 3 sentences only.
Feel free to add an outbound link (only one) in the post, provided it is not too promotional.
We don't want any guest posts that are self-promotional. Your post should create value for our readers and audience.
If you're including any quotations or content extracted from other sources like data or facts, please make sure you make due references for the same.
LostBooks.org reserves the right to edit selected guest posts for accuracy, grammatical correctness and cohesiveness. Our editors can make changes to the post any time before or after publication.
Once you have submitted the guest post, you will not have the right to publish the same content elsewhere, either your own blog or any other website.
Niches Accepted
It's quite clear that we are looking for engaging guest posts about books. But let us go into more detail so that you can understand what areas you can cover in the post.
Best Books Type Posts
You can write listicles (articles that give a list) on best books in a category, best books by an author, best books of the year etc. Get creative with your selections. The list should be so compelling that our reader would want to grab all the titles you've mentioned.
Best Authors
Posts covering best authors in a genre or a year attract all bibliophiles. We'd love to know about budding authors and even forgotten ones, their lives and style, their inspirations and accomplishments.
Book Reviews
We welcome reviews of newly launched books, popular book nominations and award winning titles. The review should be written in a confident style. Your opinions should reflect thoughtful criticism and intellect. If you're an author please don't submit a review of your own book!
Author Review
Are you an ardent follower of a particular author? You could write a critical author review for our website. Let us know about the author's writing style and your views on how the style has evolved over the years.
Writing Tips
If you're an experienced author, you could share your expert tips for aspiring writers. Your post could give comprehensive advice on writing short stories, novellas or memorabilia, or any other form that you specialize in.
Book Marketing
New authors have a lot to learn about book marketing and promotions. If you have some experience in the area, you could bring great perspective to our audience too.
Self Publishing
There are a lot of platforms that allow new authors to self publish their books. Self publishing can be an enriching experience for a new author, but it may prove to be a challenging one too. Posts that enlighten our audience about the process and practicalities of self publishing would be well received.
Other Book Related Topics
There are a lot of other book-related topics on which you can write interesting guest posts on. You could write about e-books, audio-books, social media marketing for new books and authors. In case you're unsure about a topic, feel free to email us for clarification.
The Final Word
If your guest post submission works for us, we will email you and let you know that it has been accepted. We'll get back to you within a week or so. If our editorial team recommends any revisions, we'll let you know accordingly.
Please submit the form below to reach us.