Mitch Albom was born in New Jersey on 23rd May 1958. He received his master's degree in journalism. He has worked as an author, a columnist, a journalist for several press agencies such as the Detroit Free Press, Sports Illustrated, GQ, The New York Times and USA Today. He has also worked as a radio show host for ABC. The language used in Mitch Albom books is utterly simplistic and easy to follow. Several of his books have been turned into movies. Over the years, Mitch Albom has received numerous literature awards and has even been named the best Sports Columnist of America by his peers.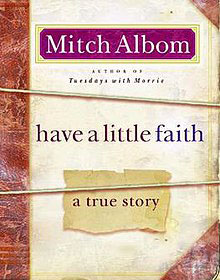 This book is an insightful description on finding the main purpose behind the concept of a religion, of how we are all one in the eyes of a higher being, how our work, race, religion, social status does not matter to any kind of God. Through the lives of two men who belong to two different religions, Mitch Albom explains how we can learn to tolerate and accept people from different faiths and how this could be the binding chords of the survival of humanity.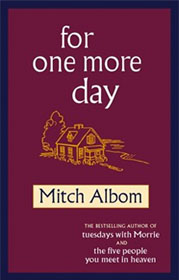 What would you do if you had one more day with the person you loved? Through this book, Mitch Albom talks about how Charlie Benetto gets to do just that with his mother. It speaks about the love, significance and sacrifice your parents make for you and how important it is to maintain that bond with them no matter how problematic it gets. With this one last chance, Charlie tries to make it right with his mother. It makes is wonder if we had a chance to spend another moment with a long lost loved one how would we use it?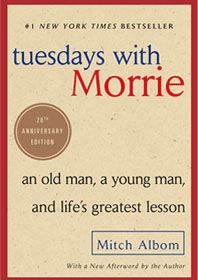 Mitch Albom tells the story of a college professor named Morrie Schwartz whom he used to adore for his intellectuality and intelligence. When Mitch finds out that he has an incorrigible illness and very little time left, he decides to spend as much time and Garber as much knowledge as he can from Morrie Schwartz. So they decide to meet every Tuesday to discuss day-to-day topics and share knowledge and wisdom. This book allows you to channel your thoughts through different perspectives. It tackles every topic under the sun. It deals with death and it's acceptance, love and anger, sadness and forgiveness. Tuesday's with Morrie is definitely a soul enriching novel.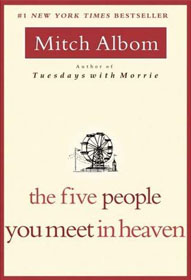 As the name suggests, this is the story of life after death. Eddy dies on his 83rd birthday and goes to heaven. Here he meets some of the most interesting and influential people whom he might have unknowingly bumped into during the course of his lifespan. In his afterlife he has managed to look back at his life on Earth from a different perspective and understand the true meaning of it. This book teaches us that some ends can also be a beginning.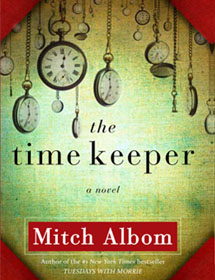 We sometimes find ourselves running out of time, desperately hoping we had more than 24 hours in a day to get by all the activities that we have planned. Sometimes we wish that the Earth would just slow down for a little while. While on other less productive days we wish time could fly by as fast as possible so that we wouldn't be subjected to the wrath of boredom. Mitch talks about how time is a precious gift we receive from God and how everything in life is pre-planned. He explains the value of time through the lives of a man who has been around since the beginning, a wealthy old man and a teenage girl.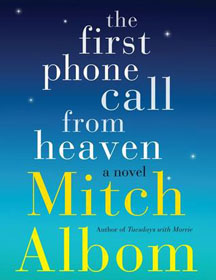 When all the residents of a town on Lake Michigan start receiving mysterious calls from the dead, Sully Harding tries to unearth the truth. Will he be able to catch the pranksters? Or is it not the work of any at all? Mitch explores the faith of humanity in God through the townsfolk. The tale combines science and mystery.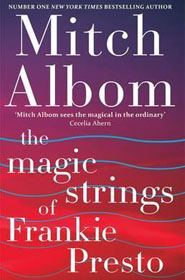 Through the tale of Frankie Presto, Mitch Albom revisits his deep connection to music. Frankie is an orphan who is adopted by a music teacher. He aspires to be a pop sensation but changes his mind upon realising that he is able to touch people's hearts through his music.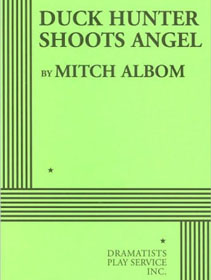 This is a play about two foolish brothers who go on a duck hunt for the first time and think they've shot an angel. A humorous tale with a little bit of meaning and philosophy hidden in it.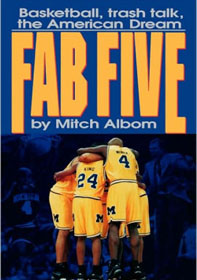 This is a collection of chronicles from the lives of five famed basketball players recounting their journey from the University of Michigan to the 1992 & 1993 NCAA tournaments.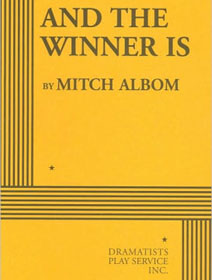 Another humorous drama about a movie actor named Tyler Johnes. Tyler is a self obsessed megalomaniac. He gets nominated for the Oscars but unfortunately dies before the ceremony.
All of Mitch Albom books have a hidden meaning behind the lines and these thoughts and ideals will somehow forever be lodged in the recesses of your mind.
Last Updated: 9 August 2018