Anyone who's into crime fiction would have surely heard the name Elmore John Leonard Jr. Though his earliest novels in the 1950s were Westerns, which deal with American old west frontier and are set from the late 18th to the late 19th Century, his core competency was undoubtedly crime fiction and suspense thrillers. The very fact that many of Elmore Leonard books and novels have been adapted into motion pictures goes on to show how large a reader base he has had as a writer. His military career in the US Navy and his participation in the action during WW2 find an impression in his books. His impeccable portrayal of the plot and the story he weaves around it grasps the reader's minds. His works are commended by the critics for gritty realism and strong dialogue. Apart from attractive critical reviews, Elmore Leonard was the recipient of several awards and honors like Edgar Award for best mystery novel (for La Brava), Peabody Award, National Book Award and many more. Let us dwell a little deeper and look at the 10 popular Elmore Leonard books to get the best of crime fiction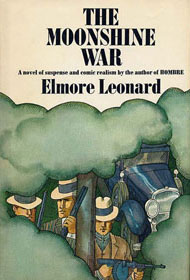 The story is set in the backdrop of rural Kentucky, which is a sort of alternative literary home for Leonard. The protagonist Son Martin aka Alda makes moonshine whiskey, which is actually illegal in prohibition era Kentucky. Frank Long, who is an old army acquaintance, turned Internal Revenue agent cannot strike a deal with Son and tries to steal his illegal booze by recruiting a few extremely violent local goons. But as things turn over the head for Long, he turns to Son with no one else left to save his life. This novel has been adapted into a movie directed by Richard Quine.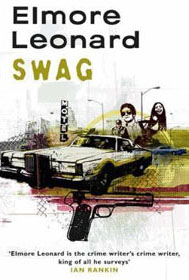 Frank Ryan, the car salesman and Ernest Stickley, the unemployed cement truck driver team up as business partners in the new venture of armed robbery. Though it turns out to be exciting in the beginning, things turn sour when they decide to hit Detroit's biggest department store. In Swag, one of the most thrilling Elmore Leonard books, he gives us two character types in criminals. One is loud mouthed but not smart. The other is suspicious of everything, close mouthed and tough. Coupled with the fast pace of the novel, the ingenious, wry twist at the end makes it even more exciting for the readers.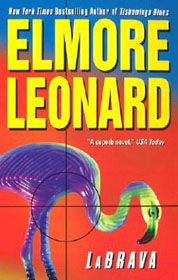 JOE LABRAVA, is a smart and tough former Internal Revenue officer in South Miami. He takes up photography after his stint as a government employee. He gets tangled up with a movie actress with whom he was moonstruck when he was 12– only to find out that she is being hassled by two thugs. Into this milieu, the author places varied group of characters, including a hustler who preys upon women and psychopathic Cuban refugee. This Leonard's classic is a 1984 Edgar Award Winner.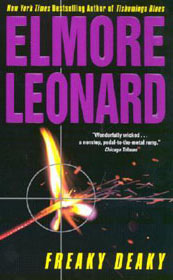 This Elmore Leonard's Book, Freaky Deaky places before us a cops – and – bombers tale in an urban backdrop. This has been adapted into a crime – comedy – thriller film by Charles Matthau. Chris Mankowski, former bomb squad member who is currently serving as a cop comes into conflict with one – time revolutionaries seeking revenge who make bombs. Based in Detroit, this novel is filled with dialogues of the local flavor and of the crime genre.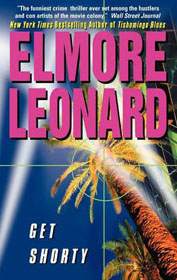 A mobster and loan shark, Chili Palmer chases a debt all the way to Hollywood to discover that the movie business is much the same as his current job. His meeting with Harry Zimm, to whom Chili explains his movie plan and the subsequent story that unfolds is one with hilarious comedy packed with elements such as a Mexican drug deal.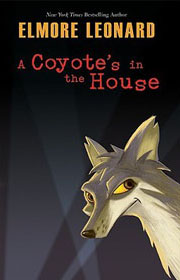 Elmore Leonard's debut children's book is set in the Hollywood hills. Though a children's book, it is eminently suitable for adults, given the sharp dialogue, intelligent humor and tight story telling. The book is based on two canines, both German shepherds, one of which is Buddy, the canine star of movies, now retired. The other is a rather wild one named Antwan. The story takes shape as they decide to trade places.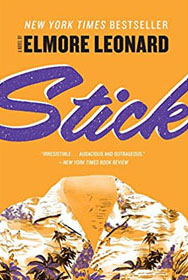 Stick (Stickley) back from SWAG, also one of Elmore Leonard's books, is determined to go straight after being released from prison. But he finds it hard to stay honest when he sees the opportunities that are available in the underworld paradise of Miami. He is selected by a big drug dealer to die and a perfect revenge opportunity presents itself when he gets mixed up in a drug deal that turns into a disaster.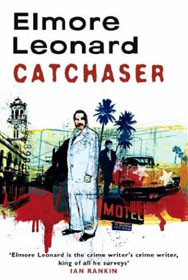 Adapted into a movie by Abel Ferrara, this book written by Elmore Leonard is a about a retired US soldier, George Moran, who is in search of a Dominican woman who saved his life. In the meantime, he begins a relationship with Mary DeBoya, the wealthy, unhappy wife of a sadistic former Dominican general. Moran plans to rip off the general with a couple of his friends, which kicks off the plot.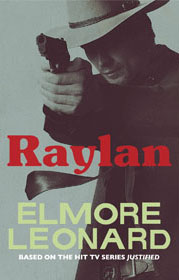 This book focuses on the character of a US Deputy Marshal, Raylan Givens, who also appears in a couple of Leonard's previous novels. As marijuana becomes the biggest cash crop in Kentucky, Dickie and Coover Crowe decide to take it up as a business. Marshal Raylan decides to stop them to kick off a crime thriller in which a nurse named Layla goes for his kidneys. The bad guys and main characters are mostly girls this time around which comes as a bit of surprise for the readers.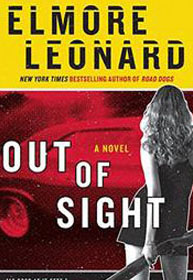 Adapted into a crime comedy film by Steven Soderbergh, this is the first of the several collaborations between Soderbergh and actor George Clooney. Jack Foley, a career bank robber and a US Marshal, Karen Sisco share a car trunk in extraordinary circumstances. Ripley, a business man who bragged to Foley in prison is about to host both Foley and Miller, who is also a long time robber. The interlude between Foley and Sisco in a Detroit Hotel is without doubt the hit of the lot.
Last Updated: 8 August 2018