Sir Arthur Ignatius Conan Doyle (1859 – 1930) was a world renowned British writer best for his detective fiction books, introducing the character of Sherlock Holmes, which has become synonymous with detective profession in the recent past. His passion for writing and mindfulness to create an intriguing plot and thrill the readers made Arthur Conan Doyle a successful writer. Arthur Conan Doyle books are revered by readers across all generations and regions.
Doyle's in his novel A STUDY IN SCARLET introduced the world to the famous duo, Sherlock Holmes and Dr. Watson. He went on to write 60 detective fictional stories featuring the famous Sherlock Holmes. Doyle also strove into spread his spiritualism faith through a series of books.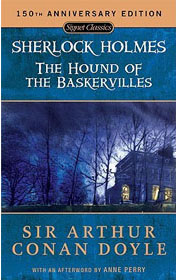 This Arthur Conan Doyle book, brings back Holmes to life after his apparent death in a previous story. Always rated at the very top by the ardent readers of Doyle, this book has a sublime plot. Sir Charles Baskervellie has died. Was he killed? If yes, then who did it? How will the heir in line to the ancestral property, Henry survive the curse? The readers will definitely be intrigued by supernatural hounds and a mysterious ancestral curse.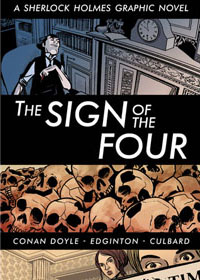 Revealing the darker side of Holmes's personal habits, this book also introduces the readers to an important female character henceforth. The plot involves the disappearance of Mary's father, who then receives a suspicious letter. The now famous Holmes is thrown into a frenzy involving a hidden treasure, to which Mary has a claim. Featuring a thrilling chase down the Thames, will Holmes to get to the end of things like he always does?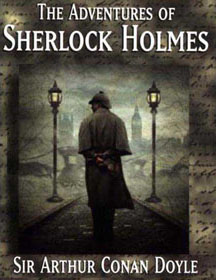 After a couple of Arthur Conan Doyle books featuring Holmes as the protagonist, a compilation of twenty four short detective mysteries were written by him featuring the same world famous detective protagonist. This compilation has gone on to become one of the best compilations of short stories in the genre of detective fiction. When elaborated and adapted into movies, each story has the potential to become a feature length film. The protagonists, Holmes and Watson solve a series of mysteries in the stories. On a lighter note, this book has the potential to become a handbook for young aspiring detectives.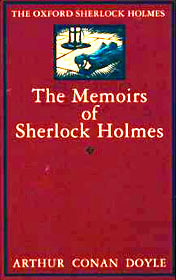 Doyle gives back Sherlockians their beloved detective and the protagonist in his stories, Sherlock Holmes, but this time again in a series of short stories much similar to an earlier book of his. The most famous known villain, a Professor is introduced in one of the stories. Doyle entertains the readers by opening up the young life of Holmes in one of the stories and in another, the readers meet Mycroft, who is Holmes' brother.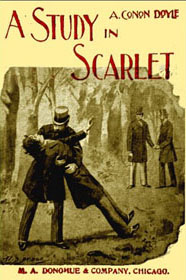 A Study in Scarlet is the book in which the world renowned legend of Holmes began. It is the first book in a series of detective mysteries by Doyle. The story begins with Dr. Watson, who is an injured Afghan war veteran. He meets the enigmatic Sherlock Holmes and both of them begin their journey as private detective duo. They deal with cases too tough for anyone and many a detectives, and solve them thanks to the uniquely gifted detective brain of Holmes.
It begins with the detective duo being puzzled over an encrypted message of Professor Moriarty, who is by far Holmes' most challenging nemesis. A murder takes place which has some connection with the encrypted message. Is murder a standalone murder or has it got some background to it? This book kicks off Holmes's battle against the criminal organization of the Professor Moriarty.
This Arthur Conan Doyle Book deals with the murder of a young woman who is soon going to get married. What is suspicious is that she already knows that she is going to get killed. But as in all great detective mysteries, the murder takes place with no clues whatsoever. Can Holmes unravel this mystery? Read this Doyle classic to find out.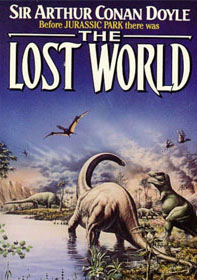 While many of Arthur Conan Doyle's books are well known for the famous detective character Sherlock Holmes, he has written other novels that do not feature Sherlock Holmes. This book delves into the fantasy world of dinosaurs. George Challenger, a professor discovers a region near Amazon basin in South America where dinosaurs are still alive. The book also contains the description of a raging battle between tribal humans and apes.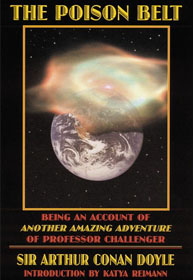 Back from The lost world, Challenger urges his wife and a friend of his to get oxygen cylinders as he discovers that the human race is going to end if they do not find a plan to solve the impending crisis due to poisonous atmosphere caused by Ether. This book feels more like a sci – fi fantasy rather than a mystery.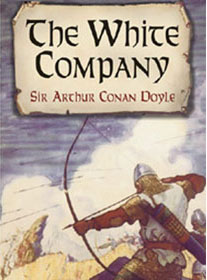 Set during the Hundred Years war with France, this story is about a young man and his journey towards his knighthood. Not only his reputation is stake but also the chance to win hand of the girl he loves. This book investigates the social, cultural, religious and political conditions prevailing in those times.
Last Updated: 8 August 2018