Robin Cook re-ignited evanescent downfall of medical fiction craze among its followers with his brilliant novels. His work not only teaches readers about the scope of medical science but also socio-economical impacts of medicine and its allied branches. With his egalitarian explanation of a plot, he establishes an automatic connection with non-medical readers too. His thoughts being easy to fathom invoke a keen enthusiasm. Though all of Robin Cook books have been regarded as best yet Robin's passionate charm towards desisting from writing the best is appreciable in every sense.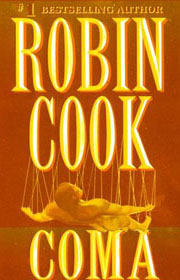 For those readers who are new to the medical fiction genre, this book is a perfect start to fall into love with Robin Cook's outstanding writing style. Story is about a young female medical student, Susan, who detects something fishy in patients' sudden going into coma after innocuous normal surgeries. Her defiance to local staff who tries their best to desist her from investigating the root cause leads to several obstacles coming her way. Reason behind all these irregularities is not only corruption but it has something more than it. Evidences are hard to be discovered however Susan's adamant enough to find the root cause behind all this abhorrent happening at any cost. She finds no-one to trust making her way rather more difficult.
Medical fiction lovers will find this novel by Robin Cook hard to resist. When America becomes crazy for discovering the Prozac drug, it leads into the malevolent competition among pharmaceutical companies since billions of dollars are at stake. Edward Armstrong, a brilliant neuroscientist, who thinks to be a winner, meets with horrible effects of the medicine in self and macabre sightings of dead animals. His girlfriend, who has her own dark past, is on a mission to help Edward in finding the truth. Robin cook has written a powerful novel that has a clandestine secret and aggressive plot. Edward's diligent efforts will not suffice until he is helped by Kimberly, his girlfriend. This book is worth reading and has a mind-blowing uniform pace justifying the craze for robin cook books.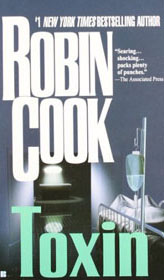 Dr. Kim Reggis, becomes the flag-bearer for meat awareness because of his daughter's sudden food poisoning due to a deadly micro bacterium. He decides to fight with feckless officials at every level who are responsible for meat decay. To prove their corrupt involvement he needs to work hard secretly and collect as many evidences as possible. His indefatigable attitude for revealing the truth has many motives for others but for him it is revenge. Food adulteration is deep-rooted but it has to be uprooted with a sensible approach of Dr. Kim, and he makes everything possible with his deliberate plans.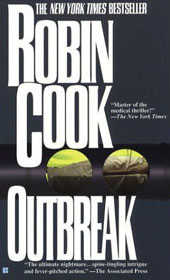 A young doctor from CDC is tasked to control the fast-growing devastated plague that has every chance to become an epidemic. What Dr. Marissa finds is not normalcy but rather well-planned and terrible travesty that has reached such dangerous levels that doctors are finding hard to deal with. She comes across many admirers to her beauty that diverts the attention from the topic though she does near-perfect work in utilizing her full potential in containing the disease. Though it has many medical jargons yet it is fathomable to non-technical audience.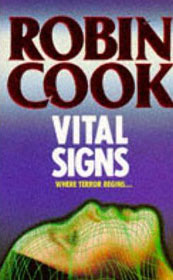 This thrilling Robin Cook book sets up a great plot presenting Dr. Marissa as a protagonist who is up on a task to identify what goes wrong with her fallopian tubes that denies her fortune of being a mother. When same thing happens to several other women thereby making them suspicious, she decides to expose the motive behind such evil things. During her investigation she meets obvious resistance and becomes a witness to many tragic deaths. Her roller-coaster ride is full of dangers and ugly people who are well-paid and brain-washed to be involved in such terrible things. She tries to find a few Connecting links and this has people from different countries involved in it. Novel induces current deep down the spine with its twisted yet interesting plot.
Last Updated: 8 August 2018