There are numerous writers with great talent who have written some of the most appreciated novels however Anne Rice's superior ability in making a complex story look easier has left other writers' work seem inferior. Anne Rice books are far from quixotic appeals of traditional writers who try to brandish a rather complex or impossible plot look realistic. Her novels are written with tremendous flair that hardly leaves anything to criticize for.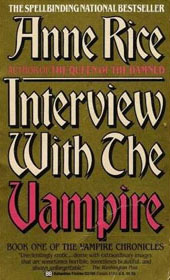 Story is about Louis, a vampire, who is indoctrinated to become a vampire, with the hands of Lestat. Louis is on a mission to understand the reason of his existence and purpose of life. While being on a mission he comes across Claudia, a young girl, who is at odds with Lestat, their tormentor who cajoled them into becoming a vampire. Louis and Claudia's journey to Europe in search of their answers is no less than a dangerous task that would certainly have numerous obstacles and risk at every step. Soon they understand that their expedition is like a journey to hell. Great book to read with thrill at every step. Characters are less in number but story is more gripping unlike previous supernatural vampire thrillers.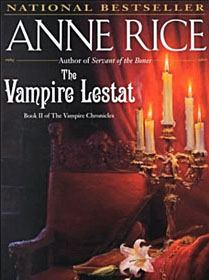 Second novel of Anne Rice's novel series- "The Vampire Chronicles" brings out more exciting story from where it ended in the previous one-"Interview with the Vampire". Based on Lestat, a vampire, who hastens through the centuries to seek answers about his mysterious existence. He was an aristocrat before and now a rockstar intends to find the scandalous answers about this existence. Anne Rice Books have stories that are diligently crafted into a perfect masterpiece with thrill and suspense at every step. This novel presents all emotions and features of vampires who are a slave of their destiny. However Lestat is not affected by the circumstances around him and maintains a perfect balance between his blood-sucking tendency and his search for finding the truth. He cannot desist from his temptation for being on a mission that is not less conjuring.
This Anne Rice book is far from being considered as an ordinary novel. Several terrific strands of entertainment are wonderfully twisted into an excellent story. Lestat, a rockstar, is occupied with his work of adoring millions of his fans through his great skills, is now facing a real test when some creatures are bound to destroy him. Akasha-Queen of the Damned comes into the picture when she becomes oblivious of the dark future that would be shadowed after her nascent awakening from sleep. Owing to her terrible wrath she herself makes plans to save the mankind from their worst danger. Story proceeds with blood-thirsty vampires coming into limelight from all corners of the world. Fate of themselves as well as the mankind is about to be decided. Mankind finds it hard to prevail over their notorious enemies.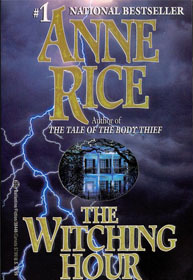 Anne perseveres in improving her great skill of storytelling by improving her self-set standards. A true supernatural novel based on witches is what everyone deserves but here readers have found a masterpiece that holds their attention with dominating appeal. Story is based on Rowan, an all-powerful, supreme witch, who is in love with Michael, somehow betrays him giving rise to a rather unthinkable end. Anne's capacity for mastering deep writing in easier language draws even the teenagers to this novel.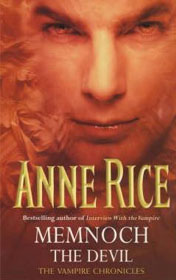 Anne's unending dwells on Vampires' topic has enabled her to dilate more beautifully on this topic. Proof to her magnificent and handsome thinking is further corroborated by her recent add "Memnoch the Devil". Here, Lestat is enamored by Memnoch, a devil, who cajoles him by offering some unimagined opportunities. He falls into a dilemma of becoming a prophet or being a devil. Unable to answer his true self he is finding it hard to convince his own self about the rather difficult choice.
Last Updated: 8 August 2018