When it comes to children books, Richard Scarry must particularly be mentioned. This is because his only area of work was producing works particular to children and his number of works crossed three hundred which is a distinguished achievement in this area of English literature. Though not critically acclaimed by many, these books have immensely helped many teachers and parents to groom their children both academically and personally. The sheer global spread of Richard Scarry books indicates the success he had with respect to his work.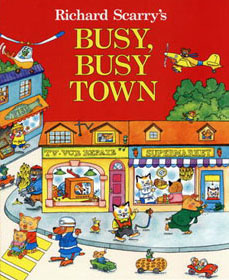 The unique element in most of Richard Scarry Books is that he depicts real life human characters in the form of animals. This style of writing is labeled as being Anthropomorphic in literary jargon. Using his unique style to appeal to children who are naturally attracted to humans, in this particular book he tries to depict the various economic and social activities that happen around a normally busy town. Describing in plain and simple English activities like banking, hospital checkups, sending mails, going to a meeting, meeting friends etc, he tries to give an overall picture about life of various groups of people goes about in a town.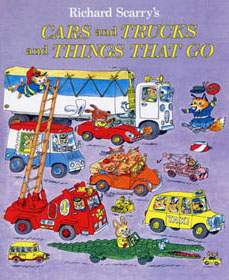 If anyone thinks that this Richard Scarry Book is just for children must surely give it a second thought. Using a family of pigs, he describes most of the vehicles and automobiles most specifically and intricately that even adults seem aghast at the details that are provided. Riddled with very tiny stories, this book is a big enough one for children to make them fall asleep.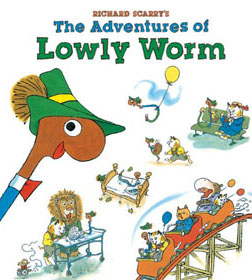 It is well known that Richad Scarry uses animals to depict real life everyday situations to make them both appealing and easily understandable to children. Many readers favorite character in Richard Scarry Books is the worm that is both active and adventurous. In this particular story, the worm goes through a series of adventures in the city which include boarding a rollercoaster, flying high with a balloon, going to a lion doctor amongst others.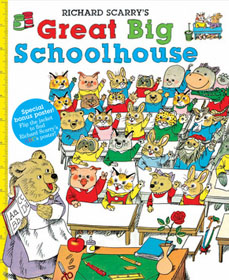 Every child's nightmare is definitely going to school. Added to this misery is when children go to the school for the very first day. They do not have any friends to look forward to and they might be terribly scared of their new teachers. This Richard Scarry Book perfectly describes how children feel when they go to school for the first time and what thoughts run in their minds. But this book is definitely going to make them feel a tad bit more comfortable as he portrays a similar character who eventually eases in to his new second home.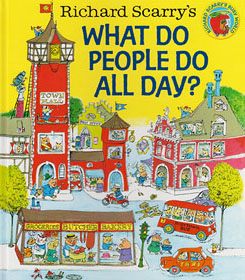 This is a perfect piece of work by Richard Scarry which can be used to teach children how much each profession helps in building the society that we all live in. Right from the biggest of jobs to the smallest that children can understand are describes in a subtle and respectable way by Scarry. These are the kinds of books that children need to read to truly internalize how society works.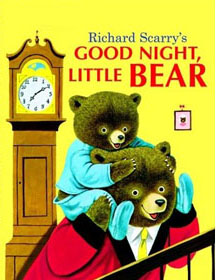 This Richard Scarry Book is more of an entertainment to children that than knowledge providing. Papa Bear is on the lookout for his son as it is time for him to go to bed. As he keeps on searching, he cannot find him anywhere. Where did he go? Make children read this entertaining tale to make them feel happy and go to bed contended.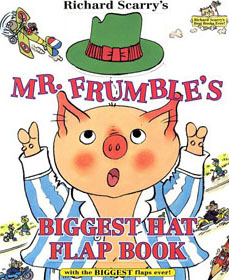 Mr. Fumble has a thing for hats and caps. This time around he wears a big hat and heads off onto the road. But to his dismay, his hat keeps flying away every now and then by the vagaries of the road in a busy town. A comic story for children, this Richard Scarry novel makes children giggle.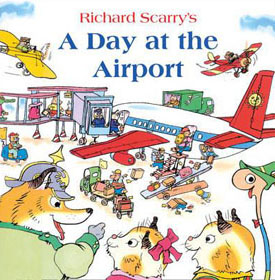 Most children find airports fascinating. The huge aircrafts flying up into the open sky and some few others coming right down and landing on the air strip. Well this Richard Scarry book is for kids who want a story to visit the airport and check out what goes on there. Surely, this one excites children and makes them connect to the characters portrayed.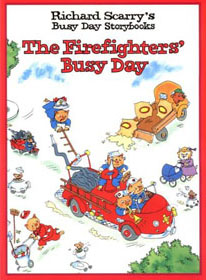 Continuing his literary tradition of children by depicting life in the city with the help animal characters, Richard Scarry produces this fine piece of work which draws on his previous books that depict the activities of various sections of people in the city. This time around, Richard Scarry takes the theme of firefighters and how their everyday routine is in order to enthuse kids.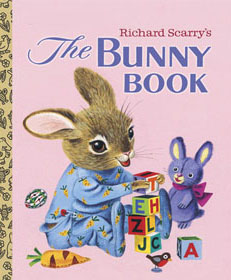 Though less routinely depicted in Richard Scarry books, the bunny draws children into the book in this classic of his. Presented as a conversation within a family of bunnies, this book silently displays the tact and intelligence children wield in everyday life. Being comical and informative at the same time, this book is a must in any child's collection.
Last Updated: 8 August 2018