Beatrix Potter is one of the most celebrated children's writers in the world. She has created some of the most memorable characters in English literature, which continue to live till day in the hearts of all, children and adult alike. Beatrix Potter books changed the way we look into our surroundings and every piece delivers a message to the reader in sublime way. She has authored 30 books, out of which 24 are children's books. Having made their way into plays, animated television series, these books are still creating waves of knowledge in the ocean of English literature.
Here is a list of the 10 best books written by Beatrix Potter which your child is going to love.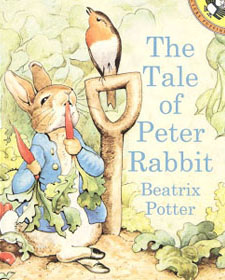 This one is undoubtedly the best one by Potter. A tale surrounding anthropomorphic animal character, it is her first and best work. Lively illustrations and a simple, yet powerful plot feed the mind of the children. Inspired by her vivid collection of pets and the countryside background, this book was an instant hit.
It's a beautiful plot surrounding a naughty and disobedient young rabbit Peter. Adventure unfolds as he enters the kitchen garden of Mr. McGregor, despite of being warned by his mother.
This is a sequel to the first book "The Tale of Peter Rabbit". It describes the typical animal behavior of repetitive actions. This adventure is marked by the entry of Peter Rabbit into McGregor's garden, along with aide and Cousin Benjamin. In a bid to retrieve Peter's clothes, lost in the previous adventure, both fall into trouble. Benjamin's father rescues the duo with a fair bit of warning.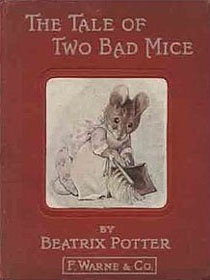 It tells the story of two crooked and rebellious mice that vandalize a doll house after finding food made up of plaster. But they later come around, realize their mistake and repay for their action in the cutest possible way.
The aim of the book is to emphasize that nobody is totally bad. Based in the setting of an adorable nursery world, any child can be mesmerized.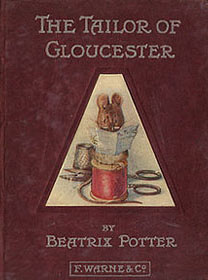 Simkin, the cat, is sent out to bring food and a twist of cherry silk by the Tailor in Gloucester to complete a waistcoat ordered by the Mayor for his wedding on Christmas morning. The Tailor finds mice trapped by Simkin and sets them free. Simkin seeks vengeance by hiding the silk twist. The mice then repay the Tailor by completing the waistcoat when he was sick and Simkin too realizes his mistake in the end.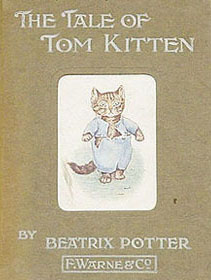 This is about manners and how children react to them. This tale is based in the Hill Top farm house owned by Potter, which is very well depicted though her illustrations.
It deals with the embarrassment of a mother cat, Tabitha, whose three kittens scamper in the garden and become disheveled just before a party. She reprimands the kittens for ruckus and chaos.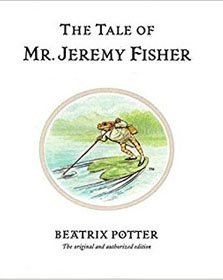 Originally written in letters to a child in 1893, Jeremy the frog is given a new setting for a new plot. The earlier setting is River Tay, which is revised to Lake District. This book once again reflects Potter's love for the Lake District.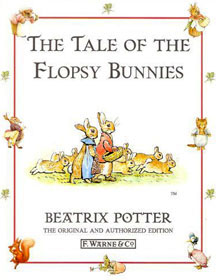 Children never grow wary of bunnies. Potter once again brings out another fabulous tale of bunnies set in the background of Potter's uncle's semi-formal garden in Wales.
Benjamin is married to his cousin named Flopsy and they have a litter of 6 bunnies called the Flopsy Bunnies. The story revolves around McGregor's vegetable garden where the bunnies are captured and rescued later on by a wood mouse.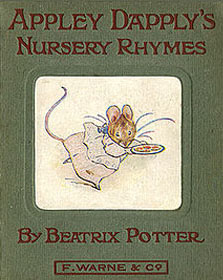 Apart from being an author, Potter always had a fascination with rhymes. This book encompasses most of her animal characters in the rhymes. Rhymes are a treat to young minds and this book of rhymes surely stands out in its uniqueness.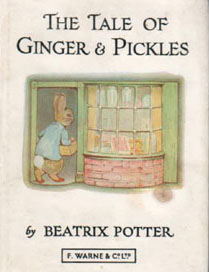 This tale is inspired by a shop in Smithy Lane, Sawry in The Lake District. Ginger and Pickles are a cat and terrier respectively, who run a shop in the village. Many other characters from her books are found here. The story is about how most of them fall prey to eponymous merchants intermingled with tension and suspense.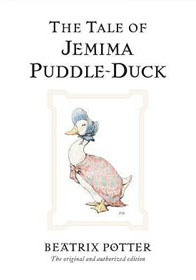 This immensely successful book went on to be featured in Royal Ballet film 'The Tales of Beatrix Potter' in 1971 and was also telecast in an episode of the animated BBC series "The World of Peter Rabbit and Friends". The protagonist is Jemima, a duck who walks away from her farm in a bid to save her eggs being taken away by her owner. Sly fox sweet talks her into laying eggs into his house, secretly plotting to eat the poor duck. But she is eventually rescued by a collie Kep.
Last Updated: 7 August 2018