Here's a list of the 10 best Clive Cussler books fro an adventure filled world: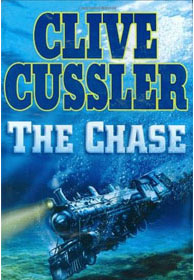 Clive is successful in putting across a fantastic thriller bound to catch every reader's attention. A series of bank robberies has stunned Western American states; add to it unsolved brutal murders of bank employees and everyone who has a hint about the killers. Wondered about cops' inability to get a clue, authorities put their best attempt by tasking Issac Bell into the business. Shouldering a huge responsibility, detective Bell ventures upon finding the killers. Very soon, he gets to know that he has got taste of the smartest criminal ever faced. Bell's efforts aren't yielding much however he has no option to be defeated with a diabolical criminal. He uses everything he has got to stop that killing machine from doing any more damage.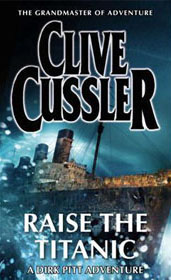 Another fast paced novel by Clive Cussler having elusive plot has become most read among the followers of Clive Cussler is Raise the Titanic. Based on Titanic movie, detective Dirk Pitt is brought into service of finding the highly wanted rare-element hidden into that ship. His task is not easy since some cupid Russian spies are also in search of that ship. Falling of the material into hands of his opponents may give catastrophic advantage to Russia which US President never accept. Cussler's idea of including deceit, intuition, murders at most optimum levels has given a sharp twist to the story and made the reading most thrilling.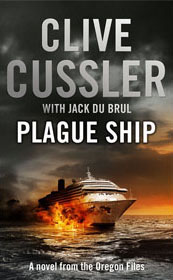 Readers will be satiated with reading this novel. Based on scientific fiction plot the story starts with sudden death of crew members because of a deadly man-made virus. Group who has leased that ship is accused to be involved in the murders have vile instincts to kill a major portion of world's population. Juan Cabrillo takes responsibility to find the culprits and bring the stop to the upcoming pogrom.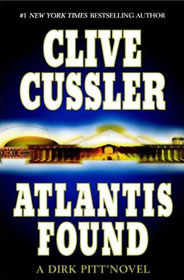 Cussler's undying efforts in writing the best has brought him much fame. But his recent novel, Atlantis Found, has resulted into more readers appreciating his storytelling and thinking abilities. Clive Cussler books is a treat for every aspiring reader. A cave in Colorado is found t o contain some strange artifacts and writing that in turn developed some connection with a modern ship. Ship is trapped in ice in Antarctica. Anxious people who take courage in finding the reason behind such secret are killed. A South American family turns out to be linked to such a plot. Cussler's story is full of great surprises and offers much adventure.
People's confidence is reposed in Clive Cussler's imaginative thinking upon reading his novel Sahara. Equipped with terrific plot where Dirk Pitt's search for a treasure in Nile River is hindered by assassinators of a U.N. Scientist. The Scientist is obstinate and skilled to investigate a disease that is driving scores of North Americans towards madness and cannibalism. Many mysteries interconnected in some way are solved with Pitt's indomitable courage and wit.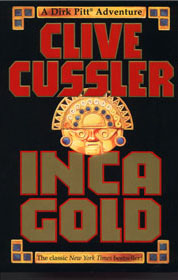 Brad Pitt encounters an enigmatic situation where is obliged to stop some greedy syndicate gang from capturing a hidden treasure of gold. His mindfulness of taking care of everyone's life is given a mammoth blow by some miscreants who push him into greater darkness. Greed and bloodlust crosses all boundaries when the plot uncovers the mystery surrounding the dangerous events.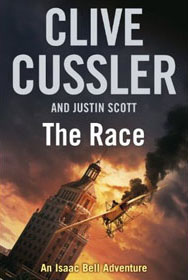 Bell, the detective is again nominated to solve a mystery of bad villain who is being chased by Bell, himself. Story is almost predictable and turns out to be indifferent to Cussler's winning storytelling. Bell, the hero survives all the evil desperate attempts of the villain.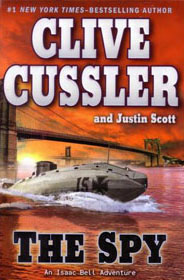 Strong story has made this Clive Cussler novel more than interesting. Issac Bell is tasked to uncover the suicide mystery of America's brightest scientist which later turns to be a murder.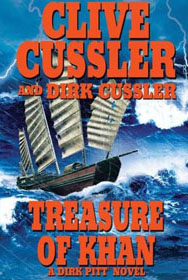 Brutal conqueror of all times, Genghis Khan has a history of possessing a great treasure which is casted evil by a great looter. Interesting plot demonstrates Khan's lust for great riches. Dirk Pitt, as usual is great savior.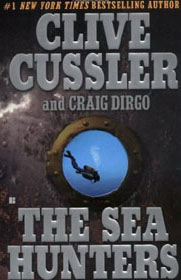 Dirk Pitt lays down his life to save the world by unraveling mystery behind shipwrecks. Several underwater discoveries indicate that motive behind the shipwrecks is over one's head other than Pitt's magnificence.
Last Updated: 8 August 2018